Product Labeling
Product Labeling of the manufactory BOHEMIA PORCELAIN 1987
All porcelain products of the company BOHEMIA PORCELAIN 1987 are labeled in this format:
TYPE OF THE PRODUCT / SIZE / SHAPE / DECOR / NUMBER OF PARTS / TYPE OF LUSTER USED / TYPE AND COLOR DESIGN
No product is described by all of these parameters, since should the product consist of more parts, their sizes are omitted in its label, and this information is then specified in the product details. Below, please see examples of the description format of various products.
Coffee set / Ofelia / Three Graces / 15-piece / Listr / GL
Flat plate / 25cm / Ofelie / Sprays / ACL
Types of used lusters:
All used lusters are not suitable for dishwashers and microwave ovens and they are used in combination with gold. The application of precious lusters adds value to the product. Below, please see abbreviations of all lusters:
Listr – IRIS luster, characteristic by its iridescent look, often used in combination with the décor of Tři Grácie
Hlistr – Brown-colored luster
Mlistr – Blue-colored luster
Plistr – Magenta-colored luster
Zlistr – Green-colored luster
Color Design of edges and entourages:
The color design is marked by a two-letter code placed at the end of the product name, or by the last two letters of the three-letter code placed at the end of the product name. The three-letter code is only used for labeling flat products (plates, dishes, ovals…), while the first letter indicates the type of decoration. The type of decoration is described below. All ceramic colors are SUITABLE FOR DISHWASHERS AND MICROWAVE OVENS, while the edges and entourages decorated with precious metals are NOT SUITABLE FOR DISHWASHERS AND MICROWAVE OVENS. Below, please see the list of color abbreviations.
CERAMIC COLORS:
BB – design without using any ceramic colors or precious metals
AL – Cyan light blue line (used with the decor with forget-me-nots, wild flowers…)
BL – Black line
CL – Red line (small flowers (Házenky), poppy seeds, berries, Easter and Christmas decors...)
FL – Purple line (pansies, violets, lavender...)
HL – Brown line (mushrooms, tea roses...)
ML – Dark blue line (geese, wildflowers...)
RL – Pink line (Elizabeth rose, children's sets...)
ZL – Green line (sunflowers, hunters, fruit...)
YL – Yellow line
PRECIOUS METALS:
GL – Glossy and matte gold (pink, luxury porcelain…)
PL – Platinum (Golf Platinum Luxury Set…)
Decoration Type:
The decoration type (layout of prints on plates, bowls…) is indicated by the first letter of the three-letter code. The last two letters indicate the color design of the edges and entourages (see above). Please see the overview of decoration types in the following table:
A - TYP
B - TYP
C - TYP
D - TYP
E - TYP
F - TYP
G - TYP
H - TYP
I - TYP
J - TYP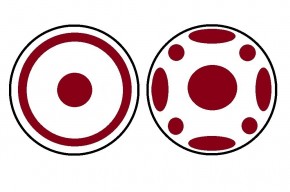 K - TYP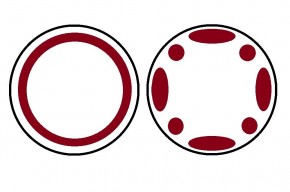 Naturally, not all decors are suitable for the abovementioned nine decoration types, e.g. the decor of Sprays can only be produced in the design A and B.